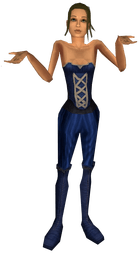 What is The Legend of Pirates Online?

The Legend of Pirates Online is a fan-made revival of Disney's closed MMO, Pirates of the Caribbean Online. For more information on who we are, click here to visit our About Us page.

Will there ever be updates and new content?

Yes! While our first and primary goal is to get this game back up and functioning as Disney had it, we have some new things in the works! Check out our What's New page for more information.

Can I play as my old pirate from POTCO?

Unfortunately, we cannot transfer pirates over from Disney's game. Sorry!

Are there rules in the game?

Yes, there are rules in the game. These rules are to keep you safe online and to ensure that you have the most enjoyable and family friendly experience possible. All players must agree to follow our Terms of Service in order to play the game, and violations of the rules may result in serious action being taken against your account.

How much does it cost to play?

The Legend of Pirates Online is 100% free. We vow to never charge anyone to play our remake of Disney's game. We are not in this for the money or the fame, we are completely non-profit and refuse to accept donations. We will pay the necessary costs for this game completely out of our pockets. Don't worry, we gotcha covered.

I've found a bug, how can I report it?

To report a bug to us, please use the Send Feedback tool in-game. It is located in your options panel (ESC/F7). You can also post them on our forums here.

How do I use TouchID on my macOS Launcher?

This document details everything you need to know about how to use TouchID on macOS!

I'm having trouble with the game, what's wrong?

We're still in the beta phase of development, meaning that there are still a lot of kinks and crannies to work out. If you find any bugs, please report them to us so we can squash them!

Does this mean that the game is complete?

No, but we're getting there! There are still lots of bugs that need fixing and a few more features that need to be added back to the game. But we're ready to take the next step and open our doors to everyone.

I'm getting a connection error when I try to log in, what's going on?

This error can occur for many reasons. First and foremost, make sure your internet connection is working properly. You can do this by opening Google or some other site. If your internet connection is working properly and you're still receiving this error, keep pressing the "OK" button to connect again. If you continue to experience issues, send us an email at [email protected] and we will assist in tracking down the problem.

How can I begin to play?

All you need to do is register an account with us and download TLOPO off of our Play page. Once you have installed TLOPO, you can log right in and begin playing. TLOPO is also 100% free, meaning we will never require you to pay for a subscription in order to play.

Will TLOPO be merging with other POTCO remakes?

No. It is not in our best interests to merge with other projects. At this time we do not have any plans to merge with any other POTCO-related projects.

Why am I being asked to verify my location?

This is a part of a new security feature named Arrrmor. This will help keep your account out of the hands of bad pirates, and alert you in the event that somebody tries to access your account.

I've had my account forever, why am I just now having to verify my location?

All players will need to verify a new location regardless of the time that you first registered at TLOPO. This will help to ensure that your account is in your hands only.

How do I verify my location?

You will have received an email containing a link that you can use to validate your login location. After clicking that link, your account will work again.

How do I disable Arrrmor?

While it is strongly discouraged, if you wish to disable Arrrmor, you can do so after you have three login locations verified on your account. To disable it, visit the account page, navigate to security, and uncheck Arrrmor.


<br /> Please note that only accounts with Arrrmor or Two-Factor Authentication enabled will be able to have pirates recovered in the event that they are deleted - even if it was by you!</p> Do you have any more information about Arrrmor?

Yes! We have created a page dedicated entirely to Arrrmor. You can check that out here.
---